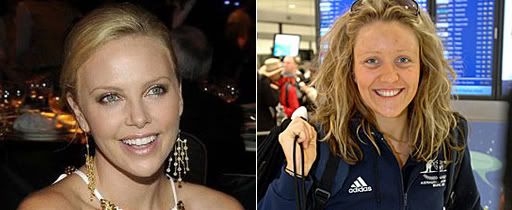 It looks like Charlize Theron's character in the forthcoming double bill of "Mad Max" films from director George Miller will be missing part of a limb.

In an interview with ABC (via Moviehole), Australian paralympic swimmer Annabelle Williams, whose left arm was amputated below the elbow, reveals that she will be a stunt double for Theron in the upcoming film.

"I got a phone call from one of the people at [the production company] and they said it's got a $200 million budget. My mum was sitting there and we were just like 'What?' Then they said that the lead actress was Charlize Theron and I nearly died. And then I thought to myself the resemblance (between Theron and myself) is striking." She laughed, adding: "Not at all. And she's about a foot taller than me."

Once she was given the thumbs up to be Theron's double in the film, she was put immediately into training to learn Muay Thai. She reveals about the action scenes in the film, "They are going to film me from a very long distance for the fighting so that they don't have to CGI out her arm. I will be her, but just not [in] the face."

The film(s), originally slated to begin filming this month, were pushed back to February as Miller builds his own 3D rigs and perfects the technology he's developing for the shoot. The two films -- with the rumored titles being "Mad Max: Fury Road" and "Mad Max: Furiosa" -- will star quite an array of talent including Tom Hardy (taking over Mel Gibson's iconic role), Nicholas Hoult, Riley Keough, Zoe Kravitz, Adelaide Clemens and Teresa Palmer.

No word on release dates yet but don't expect to see anything until 2012.